Our previous blogs in this series have covered the benefits of moving to the cloud, and the different pathways you can take to get there. Now, in the third entry, it's time to start planning the first concrete steps for moving to a cloud environment. In this blog, we'll be discussing cloud adoption frameworks – the battleplans you'll take with you to find your footing in the cloud, and make sure it suits the needs of your business.
Every major cloud service provider has their own approach to cloud adoption, but there are plenty of commonalities between them – we'll give an overview of cloud adoption frameworks in general, and how you can leverage them to help make your journey to the cloud really take off.
What is a cloud adoption framework?
Put simply, a cloud adoption framework (or CAF) is a pre-planned method for helping organisations find the most value in their journey to the cloud. While previous steps in migration have been focused on the benefits and considerations of cloud migration for IT teams, CAFs are designed to welcome input from every key stakeholder in your organisation so nobody's concerns go unheard. With those concerns in mind, a CAF helps you plan your cloud adoption to meet the needs of every aspect of your business, rather than just being a project to help the IT team with their needs.
Getting every stakeholder to weigh in isn't just important for winning hearts and minds – it also helps you to get input from people with a different perspective on the key considerations for moving to the cloud. For example, your head of HR might have a different view on how ready your users are to adjust to working in the cloud when compared to your head of IT.  When you surface these differing perspectives, you can help prioritise workflows associated with your cloud migration to make sure concerns are properly prioritised and addressed.
To get an understanding of how this works in practice, let's use the Google Cloud adoption framework as an example: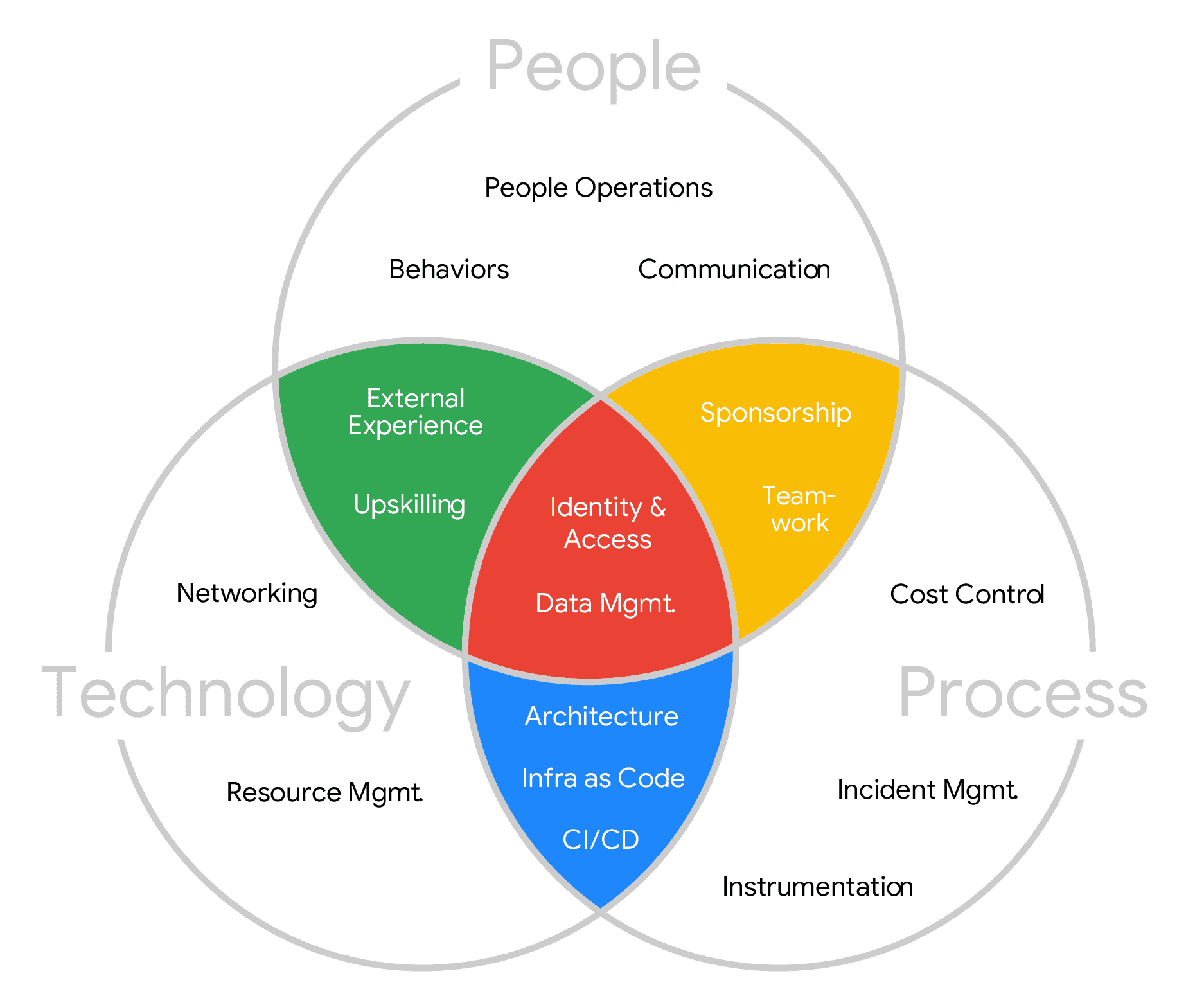 With Google's methodology, particular workflows (or, as Google calls them, epics) are tied to key areas of concern – external experience and upskilling are part of learning (shown in the diagram as green), while concerns of access and data management are key workflows for security (highlighted in red).
This allows you to help narrow down specific concerns for your business – to take an example, most businesses will rate security as a key concern for any project, especially an undertaking as significant as moving to the cloud. By isolating particular workflows that can help you address that concern, a cloud adoption framework gives you a critical first step into the cloud, and a reference point as you continue along your cloud adoption journey.
At the heart of any workflow (and, by extension, the cloud journey as a whole) is a core process – sticking to it makes it easy to move to the cloud in a way that's best for your business:
Identify your challenges
Identify your goals – specifically smaller milestones that you can accomplish on a reasonable timeframe, and build upon later
Identify the major stakeholders
Establish the metric's you'll use to evaluate success
Enable the changes to meet those goals
Identify the next steps, and repeat the process if necessary
Why should I follow a CAF?
There's no question that any cloud journey will be driven by your IT team, but it can't go far without the support of the entire organisation – that's why CAFs focus on receiving input from a broad range of perspectives, and why it's important to use that to your advantage.
Once you're off the ground, the framework also gives you the ability to strategize how your cloud will develop, and find the best routes for your migration to follow – for example, if learning how to make the most of the cloud is a key area of concern, then you might want to draw on external experience early in your journey to help your people make the most of the new environment as it develops. Or, if security is critical (which it often is), then you may want to identify methods to control access to your cloud environment, or protect data in the cloud from ransomware using immutable storage.
One of the best features of a CAF is that it doesn't stop being useful once you've moved to a cloud environment. As your organisation grows into the cloud, the process of identifying key concerns and the workflows that can help address them remains important, and keep the cloud solution focused on the needs of your business. In short, a CAF helps you benchmark your progress, plan your next steps, and even optimise your resource allocation to meet key business concerns.
No matter where you are in your journey, a large-scale project like cloud migration will generate a lot of input from across your organisation – a CAF helps you cut through the noise to find what's really important and keep on track to make sure your journey goes smoothly.
Don't know where to start?
Hopefully we've convinced you of the importance of establishing a CAF to guide your cloud migration, but you may need some help getting started. Servium can set up CAF workshops for you,  work with you to put together an action plan to guide your journey to the cloud, and, through our Services Ecosystem, help you connect to the expertise you need to help your people make the most of the move. Contact your Servium Account Manager today, or get in touch to find out more.
---
You may also be interested in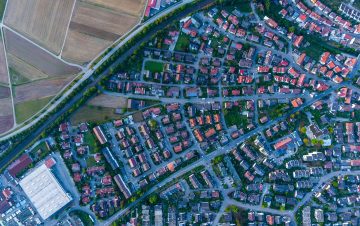 Data
Defending your data: a housing sector spotlight
Businesses such as housing associations and not-for-profit organisations hold so much Personally Identifiable Data that they become highly attractive targets to cyber criminals. But they're often ill-equipped to defend and store this data securely from prying eyes.
Read More >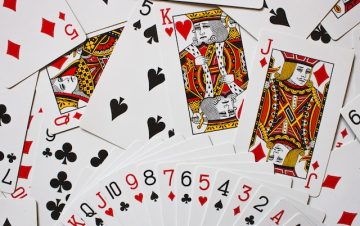 Servium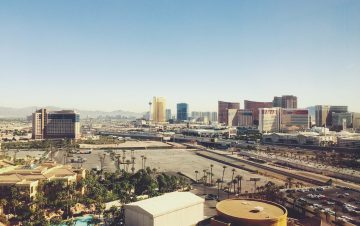 Servium
CEO Edit: July 2023
Hot off the plane from some major IT events in Vegas, our CEO Paul Barlow shares his thoughts on how the IT as a whole is evolving, and what these changes mean for Servium - and our customers.
Read More >