Network solutions for digital business
Technology is pervasive, especially at the network edge where smart devices are being embraced by businesses and users alike. Whether you know it or not, there are more 'things' on your network than ever and each is competing for access and bandwidth, but also needs securing and managing. Likewise, digital initiatives are giving rise to new applications and services that place new challenges on your network. From the access layer through to your datacentre, across wired and wireless, your network needs to get smart.
Campus and branch networking
Deploying fast and intelligent campus and branch networks helps to accelerate mobile working, your IoT initiatives, and the rollout of location-based services that can create new business opportunities. Using enterprise-class wired and wireless networks we enable the best workplace productivity for users and rich insight and control for IT teams.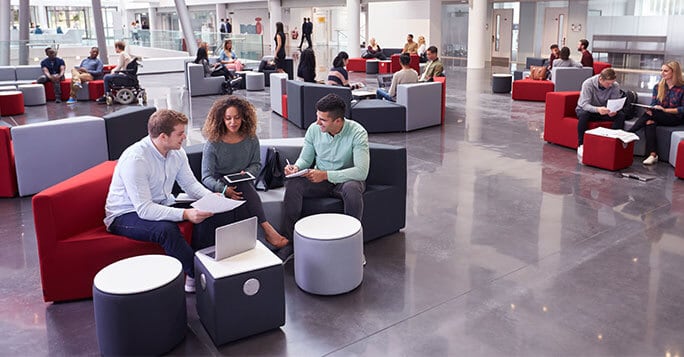 Your network is only as strong as your weakest device
Your network has historically connected Information Technology (IT) devices like PCs and Printers, but increasingly Operational Technology (OT) like air-conditioning units and smart speakers are joining too. More devices mean more vulnerabilities, especially if you don't know what's connecting. We provide all-important visibility and put you back in control, so you decide what's permitted and who to trust on your network, to better manage performance and eliminate security blind spots.
Datacentre transformation with Software-defined Networks
We compose robust and agile datacentre networks that will power the applications and services at the heart of your digital initiatives. Using Software-defined Network (SDN) infrastructure we simplify this task, enabling you to create, modify, and secure networks in seconds without ever worrying about underlying network hardware. Virtualising your network and building it in software also means that we can add valuable automation, cut the time spent administering networks, and help you to seamlessly connect with cloud-based tools and effortlessly move into the world of hybrid IT.
Look forward to a future-ready network
It's time to add agility, trust, and value to your network. With our help you'll do this, while reducing ongoing costs and creating the foundations for scale.
DISCOVER OUR NETWORK SERVICES
Your network is the backbone of your business, and as your infrastructure evolves it becomes increasingly difficult to retain control while managing cost and complexity. Our network services put you in control, giving you a view of what you have today, and identifying where opportunities for innovation and optimisation exist.
Network