Moving to the cloud has been of interest to a lot of organisations for a long time – but it's not immediately clear what moving to the cloud really means, and whether or not it's a journey worth undertaking.
We know that most people at this point understand the basics of the cloud – especially as the pandemic forced us to get familiar with cloud-based systems in order to work from home. But with restrictions relaxed, and workers returning to the office, a lot of organisations are unclear as to whether they should migrate fully to the cloud or go back to the old way of running business systems or even look at something in between.
In cases like this, the shared responsibility model can give a sense of direction.
What is the shared responsibility model?
The model demonstrates how labour and responsibility can be divided between your own infrastructure, and that of a cloud service provider (CSP). In a non-cloud environment, you have to take ownership of every part of your environment – that entails spending a lot of time on the peripheral activities that don't allow you to add value to your organisation.
Cloud environments can be divided into three main categories: software-, platform-, and infrastructure-as-a-service (SaaS, PaaS, and IaaS respectively). The nirvana of most IT environments is to harness SaaS wherever possible, so that you can focus your IT on what really matters, while leaving the CSP to take care of the heavy lifting.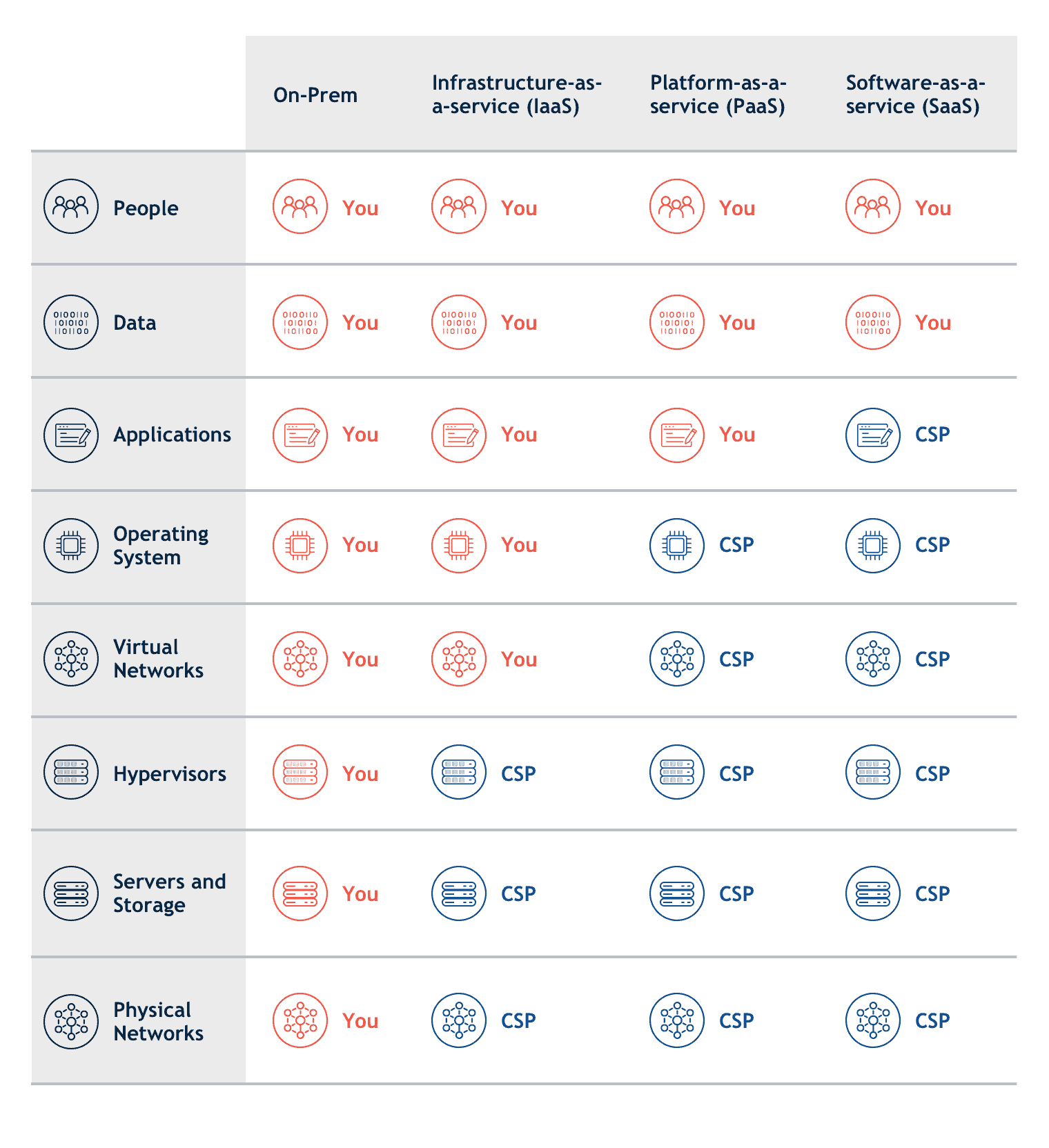 While SaaS may seem out of reach – especially if this is your first foray into the cloud, it's eminently achievable for most businesses to run the majority of their business systems in this way. In fact, you're likely already utilising SaaS within your environment – whether through services like Microsoft 365, or standalone solutions like Dropbox. Not every organisation can move to SaaS lock stock and barrel, especially due to regulatory constraints – but in many of these cases, PaaS or IaaS are still more effective and less work than running an on-premises environment.
Why is shared responsibility important?
We've told you that SaaS is the ideal for most IT environments, but you might be asking why – after all, your on-premises infrastructure works well enough, so why change?
Well, for starters, your on-premises systems may be working well enough to keep your business running, but in a fast-moving, digitally driven world 'enough' normally isn't enough. Firstly, your IT personnel are probably locked into a repetitive buy-maintain-refresh cycle – for both hardware and software, resulting in a lot of time being spent keeping the lights on. They also need to spend time and resources mitigating ever-evolving threats to security.
The business impact of this is stifling innovation – your people are too busy keeping up with their routines, so they rarely have time to push your IT ahead – instead, they always have to play catch-up. Combined with the costs of an on-premises environment, this means you can easily end up spending more to accomplish less.
By offloading many or even all the low-level responsibilities to a CSP, your IT team can free up time and resources to focus on what really matters for your organisation – whether it's delivering great customer experiences, maximising growth, or coming up with innovative solutions.
As well as liberating your people, shared responsibility also frees up budgets – you no longer need to worry about renewing hardware, keeping warranties, patching security vulnerabilities, or paying for support – instead, you pay a single fee to your CSP, and are free to allocate your budget and resources to the projects that will drive your organisation forward.
Getting started with your cloud journey
Now that you're familiar with the shared responsibility model and the benefits it represents, it's time to start considering where you are in your cloud journey – think about what apps and infrastructure components you can move to the cloud. No two apps are the same in their cloud journey, so it's important to review what you need on a case-by-case basis.
If you need a helping hand with finding out what cloud approach will work best for your needs, Servium is well-positioned to help you find your path to cloud migration.
If you are yet to embark on your cloud journey, a cloud readiness assessment is a good starting point, get in touch with your Servium Account Manager today. Or, if you have already embarked on your cloud journey, take a look at our VapourTrail Discover assessment.
---
You may also be interested in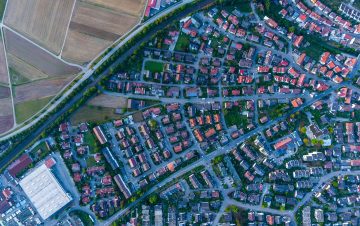 Data
Defending your data: a housing sector spotlight
Businesses such as housing associations and not-for-profit organisations hold so much Personally Identifiable Data that they become highly attractive targets to cyber criminals. But they're often ill-equipped to defend and store this data securely from prying eyes.
Read More >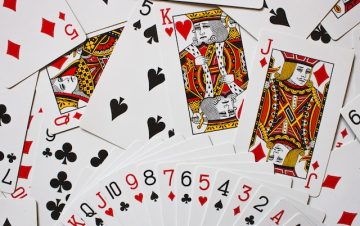 Servium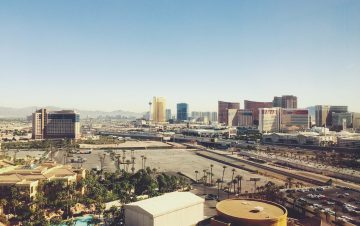 Servium
CEO Edit: July 2023
Hot off the plane from some major IT events in Vegas, our CEO Paul Barlow shares his thoughts on how the IT as a whole is evolving, and what these changes mean for Servium - and our customers.
Read More >