From corporate energy saving initiatives to net-zero targets, it's undeniable that sustainability is a key area of concern to businesses, and IT leaders will most definitely need to act in light of this. In fact, it is estimated that by 2025, half of CIOs will be evaluated based on the sustainability of their IT choices as part of their key performance metrics.
So, how can IT leaders contribute to their company's sustainability goals?
Well, one positive way to do this is to implement a more sustainable device strategy.
To get your started, in this blog we'll discuss three ways to improve your device strategy, to ensure it is more sustainably focused.
How IT negatively affects sustainability and our planet
Before investigating ways to form a sustainable device strategy, it's important to appreciate the role that IT plays in greenhouse gas emissions and technology's general impact on our environment.
According to think tank the Shift Project, energy consumption from IT networks, servers and other IT, increases by approximately 9% every year. This rising energy consumption has a negative effect on our planet.
Similarly, when it comes to the manufacturing of IT products, rare earth minerals are also used to produce technology, such as the lithium that is extracted to create device batteries. The extraction of such minerals has devastating consequences for our environment, including deforestation, whilst also removing something the earth can't just regenerate.
Add to this the impacts of your technology supply chain – in terms of transportation and packaging, and there's lots to consider if you're looking to make sustainability gains.
So, what can you do to combat these challenges and to minimise the sustainability impacts that are caused by the production and use of such technology?
Reduce, reuse, recycle
Research reveals that almost 9 out of every 10 organisations currently recycle less than 1/10th of their IT hardware.
This statistic emphasises the problem at hand. From laptops and tablets to printers and monitors, far too many devices end up in landfill once businesses have finished with them.
One way to help prevent this is to purchase fewer devices for your employees.
Perhaps suggest a bring-your-own-device-to-work scheme, whereby employees whose personal computers have sufficient power for them to complete their work with use these devices instead. Alternatively, consider sharing devices between employees for roles that don't require regular use of IT.
Where possible, purchase devices that offer multiple uses, such as laptops that can also function as tablets. This will reduce the need to buy and run two different devices, thereby minimising energy consumption and e-waste.
Purchase energy-efficient devices with strong accreditations
When it comes to buying devices for your workplace, it's important to consider how energy efficient they are. Buying devices that optimise energy usage will help to reduce your carbon footprint, thereby enabling your business to reach sustainability goals quicker.
If you're unsure of how to identify energy efficient technology or would like reassurance that specific devices meet sustainability standards, then look for relevant accreditations – TCO certified is one of the best to watch out for.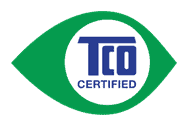 This certification is specifically for IT products, which have been assessed across many different sustainability factors, including their social and environmental attributes, as well as their overall life cycle. Devices that are given TCO certification have therefore been rigorously assessed for their sustainability.
Beyond the accreditation of the devices themselves you should also carefully consider the credentials of the device manufacturer you choose. IT manufacturers account for the many activities which cause significant environmental damage. Look closely into their supply chains, social responsibility initiatives and manufacturing processes to assemble the devices you'll buy.
Sweat your assets
Consider the frequency with which you refresh devices. Sweating your assets for longer is both a more sustainable approach and a way of saving your business money. So, it's of benefit to both the environment and your own organisation.
In fact, if you opt to sweat assets for longer by keeping devices in operation for six years rather than three years, then your business can expect to make an approximate saving of more than £450 per device. While successfully sweating assets for longer requires careful consideration over technology choice and hardware support at the point of refresh, it's more than possible to extend lifetimes without compromising on user experience.
If you find that some employees are reluctant to keep using devices after a few years, then ensure they understand the environmental impact of prematurely purchasing new devices, and explain that everyone can play their part in achieving your business's sustainability goals.
Further steps to take towards sustainability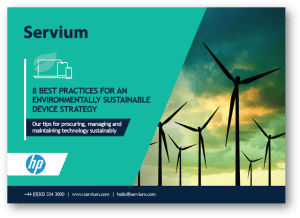 Our latest eBook: 8 best practices for an environmentally sustainable device strategy takes the discussion on sustainability in IT even further. To keep reading and to check if your strategy is as sustainably aligned as you think, download it now.
---
You may also be interested in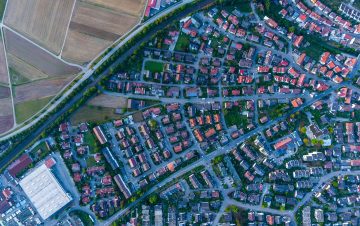 Data
Defending your data: a housing sector spotlight
Businesses such as housing associations and not-for-profit organisations hold so much Personally Identifiable Data that they become highly attractive targets to cyber criminals. But they're often ill-equipped to defend and store this data securely from prying eyes.
Read More >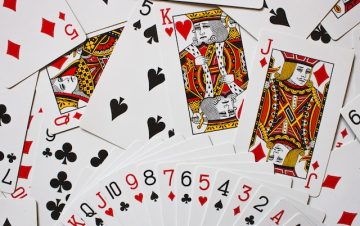 Servium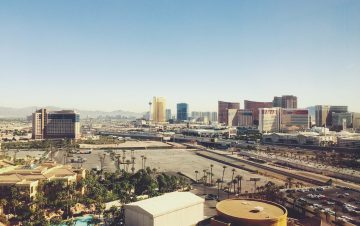 Servium
CEO Edit: July 2023
Hot off the plane from some major IT events in Vegas, our CEO Paul Barlow shares his thoughts on how the IT as a whole is evolving, and what these changes mean for Servium - and our customers.
Read More >