This is the second blog in my 'CEO Edit' series. We had a brilliant response to my first: I loved reading through others' thoughts on my musings. The marketing bods told me it's time that I once again put fingers to keyboard and share my thoughts on the 'today and tomorrow' of Servium, the IT industry specifically and the wider business landscape. We're calling it my 'end of summer' edition.
Return to the office: it's personal
Hasn't it been great to get a taste of normality back in our lives? At Servium Towers, we've been chuffed to get back behind our desks. Vital to our safe and successful return was making everyone feel happy and in control.
We spotted a business on social media using 'traffic light' wristbands to help staff quickly and clearly communicate to their colleagues what level of social interaction they were comfortable with. We thought this was a brilliant idea, so we hopped to it and got our own Servium versions going in the office.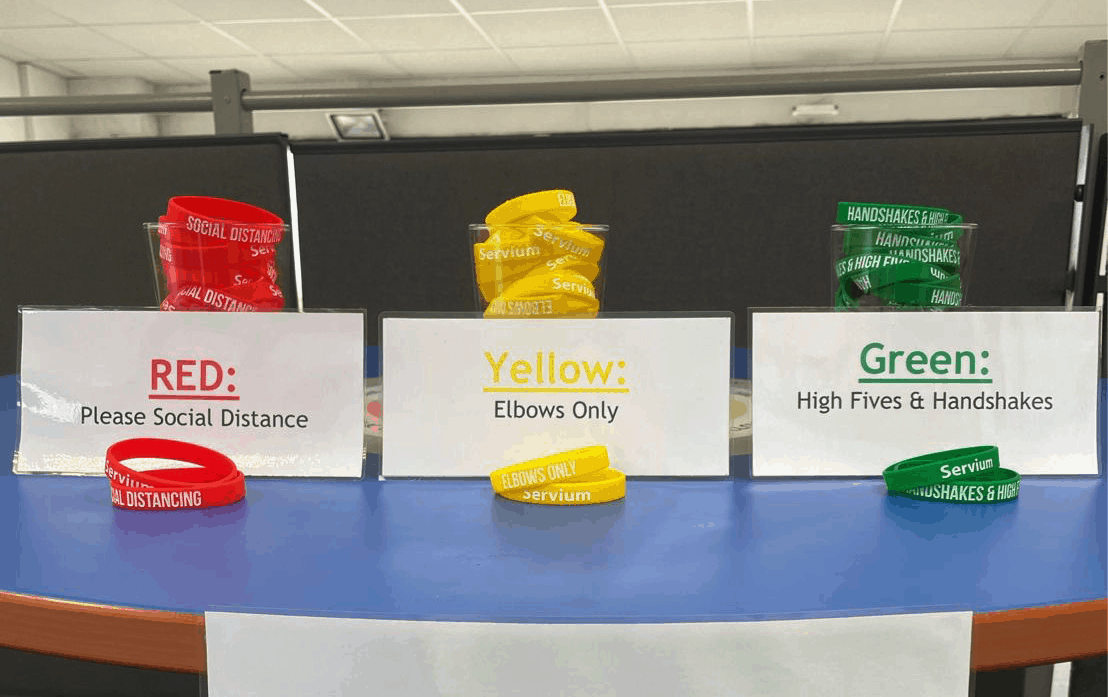 We shared it on our own socials, and others in our network then followed suit. For me, this is an example of the power of social media (which we all know can at times be challenging), being a very, very good thing. After all, not everybody is ready for high fives and handshakes just yet.
Keeping the good things going
We recently conducted our annual customer service questionnaire (CSQ), which we use to ask our customers what else they need from us and what they're planning next. This year, we decided to make our CSQ a force for good. We partnered with the International Tree Foundation to plant a tree for every CSQ response received, and then decided to double the final number. 410 trees later, we've helped the environment and got some fascinating insight into where our customers are right now. We'll be releasing the full results soon, but here's a sneak preview:
The number one IT project focus for Servium's customers over the next year will be security, with 25% describing it as top priority. This was closely followed by increasing and developing usage of the Internet of Things (IoT).
Servium's 2021 CSQ
The opportunities that IoT presents to business are enormous. But you must be aware of the impacts IoT will have down the line. The more IoT devices you introduce into your network, the more entry points you open up for potential exploitation. Our recent Insight Guide explains more about firming up your network's defences whilst making the most of what IoT has to offer.
The future of IT is chatty
Our clients are also exploring new ways of using IT to enhance their customers' experience, such as Artificial Intelligence (AI), with one of the most popular ways being chatbots. Chatbots can integrate into your chosen CRM platform, feeding it with information about your customers and those visiting your site. Essential to deploying any AI service is striking a balance between the technology and the personal experience. The wrong approach can serve to amplify frustrations, as opposed to abating them.
The frustrations of supply
Unfortunately, the IT supply crisis looks set to continue for a number of years. My advice is to try to pre-empt any device or accessory shortages by planning ahead where possible. We're predicting that fortune will favour those who either standardise their models or place stock orders. So, if you know a client refresh is on the cards, prepare for it by developing a core understanding of user requirements, and consider how you could standardise device offerings to reflect this.
By doing this little bit of extra work upfront, or working with a partner to do this, you'll reap the benefits when it comes to your purchasing experience and cut down waiting times when it's time to place your order. You'd be wise to continue this practice outside of the client arena also, as we're also seeing more ordering constraints on infrastructure hardware and servers too.
A window into the future
Of course, thanks to Microsoft's recent Windows 365 launch, physical device shortages could soon become a problem of the past. Windows 365 promises users a cloud PC that you can log into and access on any device, regardless of its age or capability. Your cloud PC configuration can be tailored to match your needs (in terms of processors, memory, etc), so as long as your physical device turns on and has access to the internet, you're good to go.
Sounds pretty good, right? Well, it'll all fall down if users' internet connection isn't up to scratch. Any businesses considering Windows 365 will therefore need to make sure their network (or their remote workers' home Wi-Fi) is capable of supporting speeds necessary to prevent latency issues. This'll be essential for employees who use touch services such as stylus, where the experience could potentially be laggy. Continuity plans will also need to account for total connection outages as there's no working offline: no internet means no PC, full stop. I'm keen to see how the Windows 365 package develops and what further product information is revealed over the coming months.
Clouds are on everyone's horizon (in a good way)
While cloud-hosted Operating Systems are still a thing of the future, further investment into cloud infrastructures is only on the rise. In my last blog, I promised the launch of our VapourTrail cloud services. They're very much here now. Have you seen them?
I think that's enough from me for now. If you fancy chatting about any of these topics, or even if you are just able to tell me where this summer's sunshine has gone, then drop me a message on LinkedIn or Twitter.
---
You may also be interested in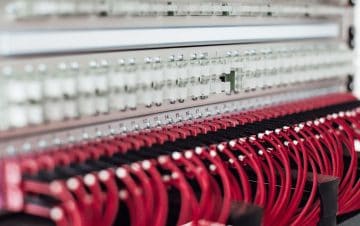 Servium
5 technology considerations before embarking on an AI project
While businesses everywhere are looking to capitalise on the power of AI, deploying this technology into your IT environment requires preparation and planning to avoid costly missteps. Our blog covers five key things IT leaders need to take into account before embarking on an AI project.
Read More >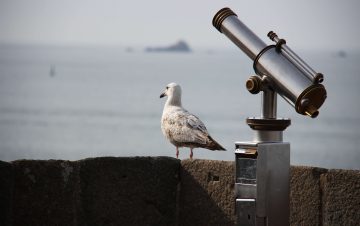 Management
OpsRamp and the rise of Observability
IT environments are becoming increasingly distributed across multiple clouds and on-premises infrastructure. With this added complexity, businesses need solutions that can give them visibility over everything that's going on - no matter where it is. In this blog, we discuss HPE OpsRamp, and how it can help businesses build their observability capabilities.
Read More >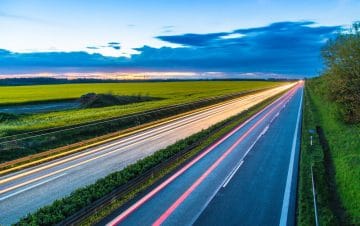 Servium
The Europe Connection
Conducting business in Europe continues to prove difficult in a challenging climate. That's why we've expanded our portfolio with three additional solutions to help unlock supply routes for our customers, including a new German-based Servium GmbH entity.
Read More >