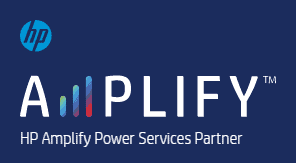 Strong heritage with industry titan
Founded in 1939, HP has paved the way for IT and Technology innovation for decades. Learning to grow and adapt ahead of the market is what keeps HP the well-respected and established brand it is today. A founding father of the IT industry, HP is responsible for some of the world's most recognisable technology, loved by businesses and users alike.
Servium and HP
We've worked with HP since the very beginnings of our business and are proud to be a Gold partner. Our accreditation recognises our ability to advise on and deliver solutions from across HP's complete product line-up. It means you can call on us to build solutions that dramatically enhance your workspace – covering devices, print, collaboration, and support.
Our relationship with HP is forged on a mutual understanding that results matter, which is why we get advanced notice of new HP products, have priority access to product stock, and can offer our customers the best commercials, including exciting new "as a Service" consumption models.
How we can help you
It's simple, together HP and Servium promise great tech and great support. Everything you need to make your workspace secure and productive.